The Drip Kit - Water Drop Photography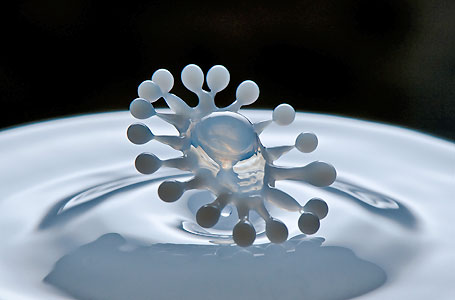 A first class piece of kit. So easy to use. I have already managed nice drop-on-drop collisions in less than 30 mins of fiddling with timing.
- Kay-Burn Lim
Image Copyright by Kay-Burn Lim



---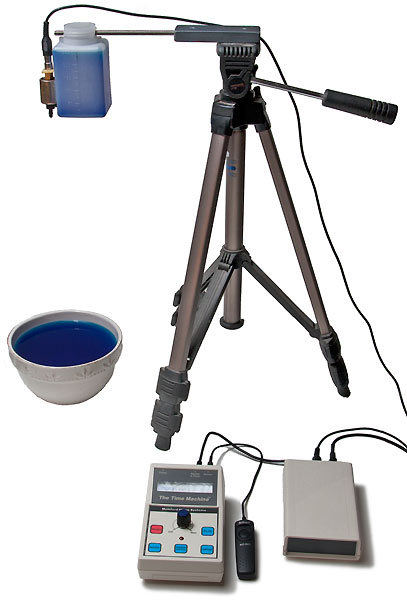 The Drip Kit is an accessory for the Time Machine that makes it easy to photograph water drops and drop collisions. It was designed to be the easiest to use, and easiest to set up system you can buy. You can be capturing drop collisions the same day you receive the equipment. Photographing water drops is an art, and superior images (like those shown later on this site) come after you have learned to control the timing and lighting. But the mechanics of producing drop collisions is easy with the Time Machine and Drip Kit.
The Drip Kit consists of the following parts:
A control box
An electric water valve and drip bottle
(either joined, as shown, or separate)
A mounting bar for your tripod
A threaded rod from which to hang the drop bottle
A push button to initiate an exposure
To use the Drip Kit you also need a Time Machine, a cable to connect your camera to the Time Machine, and cables to connect your flashes to the Time Machine.
The drop bottle and water valve are mounted to the top of a tripod you provide. The valve will dispense drops on command that fall into a pool below. You can easily adjust the height of the drops by raising or lowering the tripod.
You can easily control the number of drops, their size, and the timing with the Drop Mode in the Time Machine. Each of three drops can be a different size, and you have independent control of the delay betwen drops 1 and 2 and the delay between drops 2 and 3.
The Drip Kit is ready-to-use and can be quickly set up on a kitchen table to photograph perfectly timed drops within a few minutes. It runs on built-in nine volt batteries so no electrical outlet is needed, and there are no AC adaptors and extra cables in the way.
Click Here to download a PDF file of the Drip Kit instructions.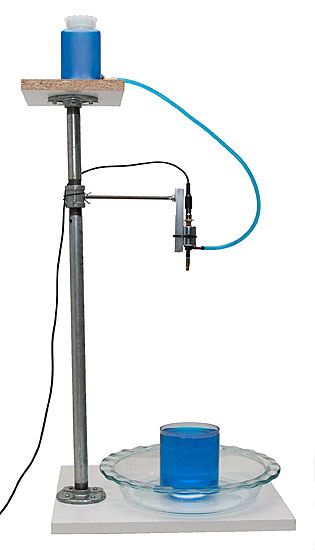 You can aslo support the Drip Kit with a photographic copy stand, pipe fittings from a hardware store, or any more elaborate wooden structure you may wish to build.
The water valve can be purchased fastened to the drop bottle for the most convenient, simple operation, or you can purchase a separate bottle and valve to give more control over the flow of water or placement of multiple valves.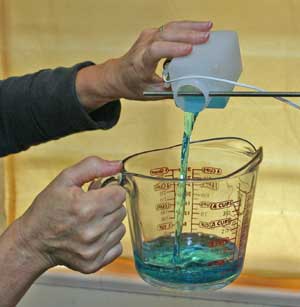 If you wish to change colors it's easy to tip the reservoir to pour out one fluid and replace it with another.

Operation of the Time Machine is simple and easy to understand. You enter your settings in plain English, not engineering jargon. The Drop Mode asks for the following settings:
Drop count - The number of drops to emit, from one to 255.
Interval - The time to wait between multiple drops, from .001 to 9.999 seconds.
Drop size - The time the valve is open to form each drop, from .001 to .255 seconds.
Flash lag - The time to wait before the flash is fired, from .001 to 9.999 seconds.
Advance - An amount of time to add to the next drop sequence.
(Subsequent images are captured a little later each time, from zero to .9999 seconds.)
When more than one drop is selected, you are allowed to enter a different size for drops 1, 2, and 3, and a different delay after drop 1 and drop 2.
The Time Machine is then "Armed" and ready for you to press the trigger button. When you press the button, the camera shutter is opened, the water valve releases the drop(s), the flash fires at the precise instant selected, and your drop photo appears on your camera preview.
The accuracy of our drop timing is unmatched. Every Time Machine is built to your order, and the timebase components are hand-picked for an accuracy of +/- 5 parts per million. (We're experts at precision timing. We also make a calibration tool used the world over to measure the accuracy of clocks and watches. They use our tool to measure the Great Clock in the tower of Big Ben.) Every Time Machine and Drip Kit is made in the USA, assembled by hand at our shop in Santa Barbara, California.
The trigger button is on a long cord so you can keep it with you behind the camera. Each time you press the button, another drop (or drops) is released and a new image appears on your camera's preview screen. You can then evaluate the image and adjust the lighting or timing, or shoot another drop with the same settings. If you have programmed an "Advance", the next exposure will be a little later in time.
You can shoot drops during the daytime in a room that's not completely dark because the exposure time is short. This makes it easier to adjust the equipment while you work.
The images below illustrate the degree of precision the Drip Kit can keep. Each image was taken one after another. In each case the first drop has struck the pool and bounced up. A second drop is falling afterwards, and has just made contact with the first drop. The collision is beginning to spread into a sheet at the intersection. All four images are nearly identical. There is no need for an optical sensor in the drop path because the drop release is accurately timed by the electric water valve, which is controlled by our precision timebase.
Just stand behind your camera, press the trigger button, and everything happens automatically.
---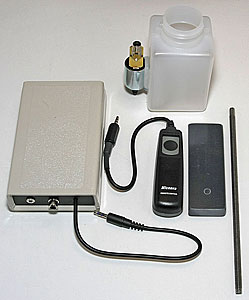 To use the Drip Kit you need to order the following items:
The Time Machine.
The Drip Kit (shown here).
A Time Machine shutter cable for your camera.
Cables to connect your off-camera flash to the female sync jack of the Time Machine.

If your flashes have no sync jack, you can use a
hot shoe adaptor
to add one.
If you want to use more than one flash, you can use the sync jack splitter to plug them into.
The Drip Kit components
(additional cables and instructions not shown)
---
Testimonials
The best testament of how easy it is to use the Drip Kit comes from our customers:
On Monday I got your package with the Time Machine and the Drip Kit! Thanks a lot! I have already started with this combination and it functions well. It's really an impressive device.
- Frank
I received the Time Machine today, I just saw in general what it can do and I must say thats its amazing. I have already taken "amazing" water drops pictures that I couldn't even dream about before the Time Machine.
- Markos
"You'd think that I'm emaling you with news of my first child, but no, just to let you that I'm completely addicted to the Mumford Time Machine. I only spent six hours this past weekend re-teaching myself about soap bubbles, and finally understanding what you need to get the water drop in a soap bubble shot (like a ship in a bottle). Plenty more to learn, and plenty of fun....Thanks for turning me on to the Mumfy Machine."
- Thomas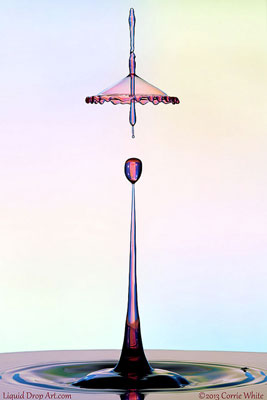 Parasol Launch by Corrie White
I just wanted to thank you for the Drip Kit and Time Machine - I have had them for about a week and a half now and I have loved every minute of the process so far. I have attached a couple of small JPGs to show you what I have managed to far.
- David
I recently purchased the Time Machine with the DripKit accessory. I also purchased the necessary cable to connect to my 5D Mark II. I am very pleased with my purchase. I was capturing drop collisions in no time.
- Ken
Thanks for the rapid supply of my order " Time Machine ". After an hour I have already been able to photograph some very beautiful water drops.
- Luc
Thought I'd let you know...
Using the equipment you sent :
Drip Kit and Time Machine
I entered a competition and won!
1st place!
- Frank
I just wanted to write to you and say thank you for the Time Machine and Drip Kit. I have finally had time in the new year to play with them and they are wonderful and your instructions were a great help, clear and easy to understand.
- Heidi
Thanks for answering my questions. I have it up and running and have been taking some great shots that I was never able to get before. The kit has been great!
- Dov
I just wanted to thank you for the Time Machine and Drip Kit . It all works brilliantly and I have had a very successful shoot with it !
- Louisa
Last night, I started to get set up for shooting water drops. I love the machine, it does everything well, and it's very intuitive to run. Thanks for a great product!!!
- Ken
Just want to thank you with your service in providing me with The Time Machine. Im really happy with it and the quality of my first images exceeded my expectations.
- George
---
Images
All of the following images were taken with the Time Machine and Drip Kit by our customers.
Click on the image below to see a video clip of the Drip Kit in action with slow motion drop collisions. It's a 12 MB file, so it may take a little while to load. This movie is interesting because it illustrates the whole event we are photographing, instead of the frozen frames we normally see. It was filmed by The Slow Mo Guys. They have many other interesting slow motion videos on YouTube.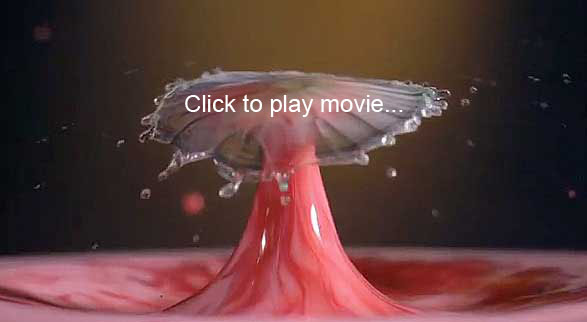 ---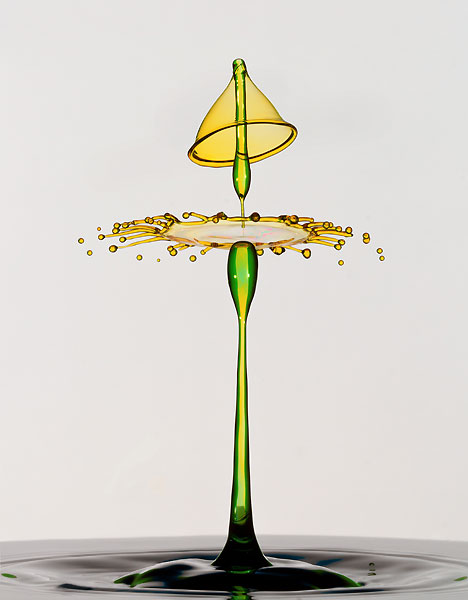 Corrie White is a Master of water drop photography. She pioneered many of the techniques used by other drop photographers. There are many examples of her work in national magazines, on her web site, and on Flickr. Her comments after receiving the Time Machine and Drip Kit were:
"It's an ENORMOUS improvement. This is so much fun now. It used to be quite frustrating before, but now there is a 100% success rate which is soooo exciting."
Corrie has written a comprehensive eBook called "The Ultimate Guide To Water Drop Photogtraphy".
All images are Copyright by Corrie White and may not be reproduced.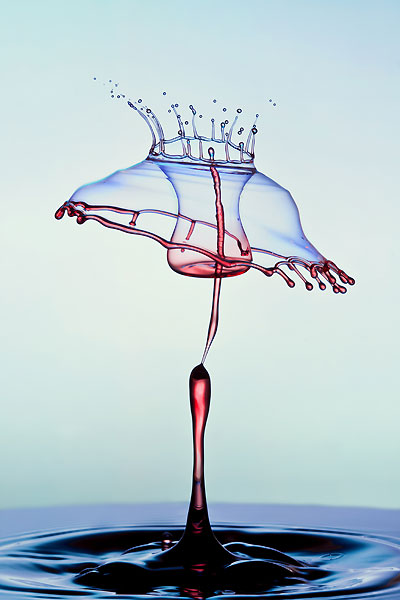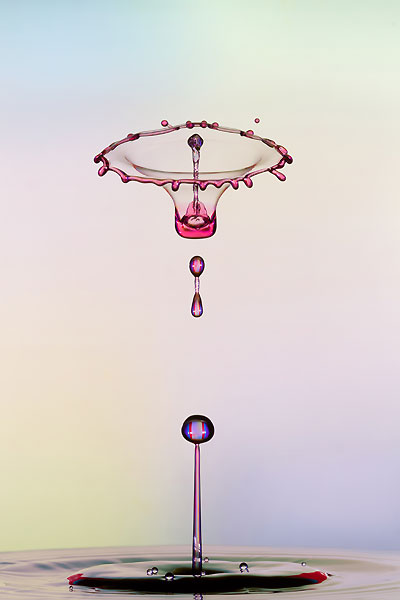 Susan Candelario is a professional photographer in New Jersey. She is often asked to give classes and training in water drop photography. She used the Time Machine and Drip Kit to produce these images. You can see more of Susan's work at her web site: www.sdcphotography.com
All images are Copyright by Susan Candelario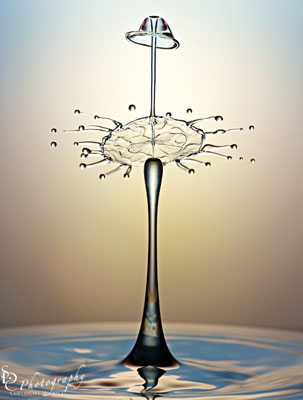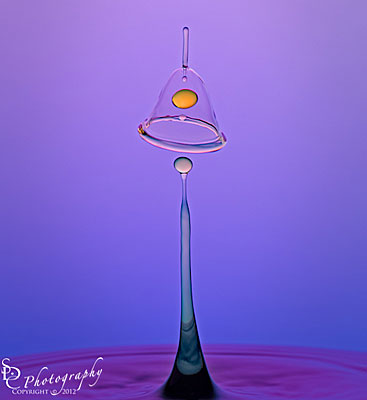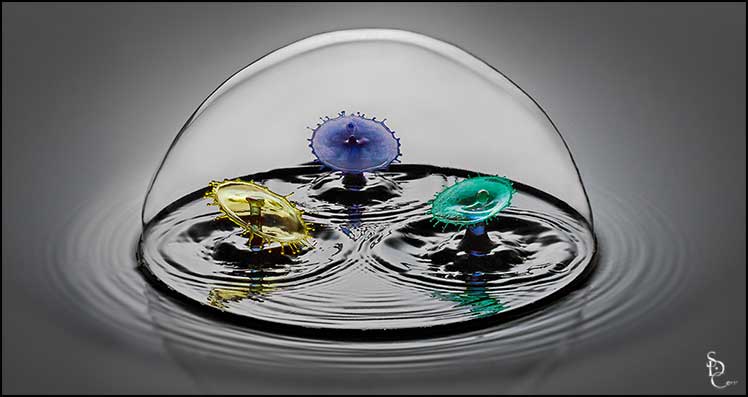 ---
These images were taken with the standard Time Machine and Drip Kit by Maria Gemma June.
You can view her photostream on Flickr
Gemma's images are copyrighted and may not be used without her permission.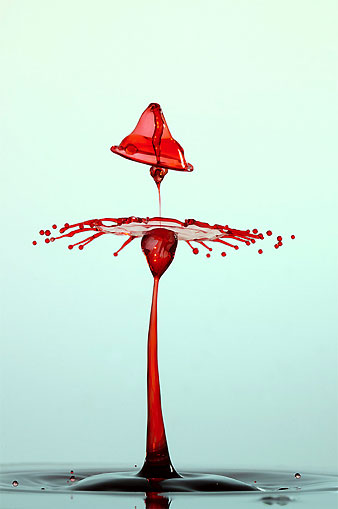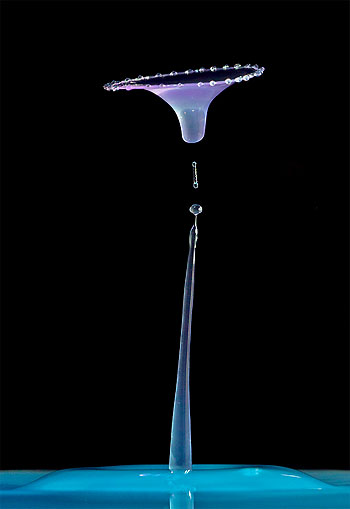 ---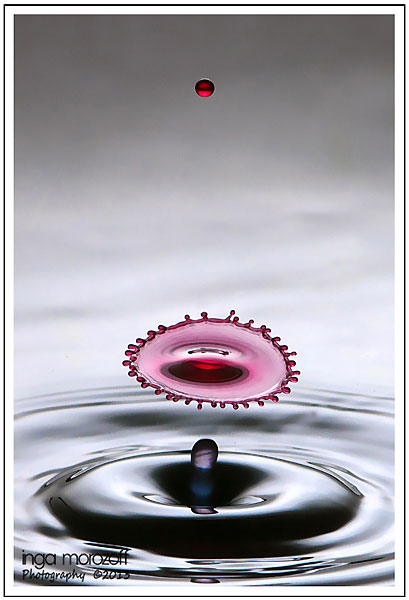 Inga Morozoff is a photographer working in Alberta, Canada. You can see more of her work at: www.IngaMorozoff.com
Her images are copyrighted and may not be reproduced without permission.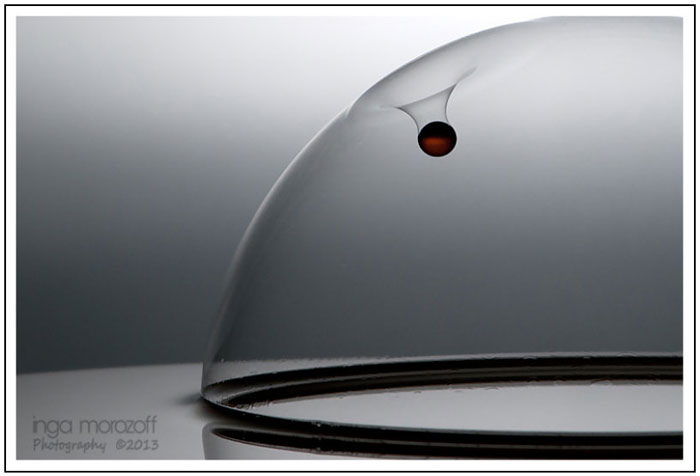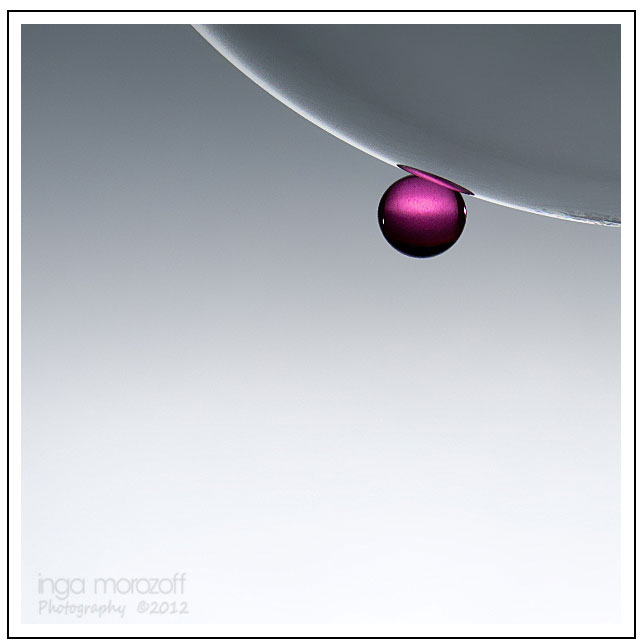 ---
Richard Mohler works in Las Vegas, Nevada. You can see more of his work at: http://relhom.deviantart.com/
All images are copyrighted by Richard.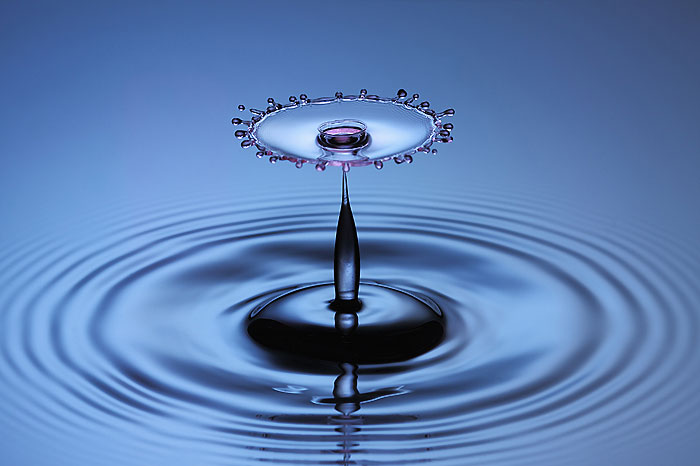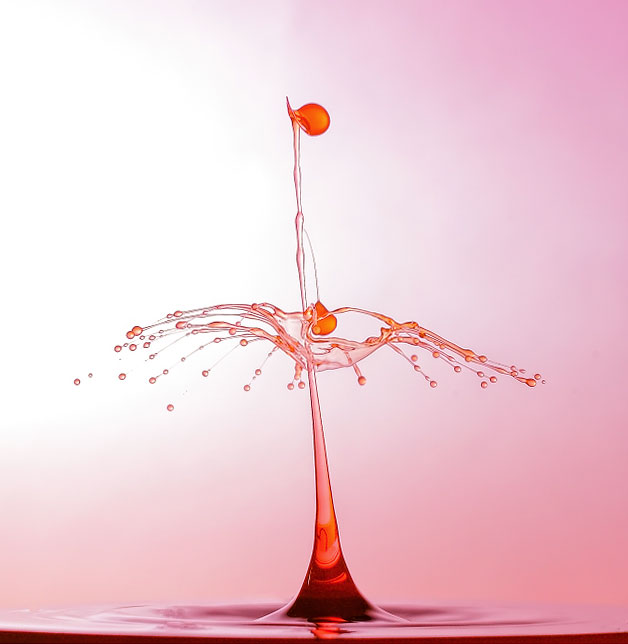 ---