---
The Time Machine is often used with a high speed flash to capture an instant in time. This picture captures the instant after a balloon is popped with a pin. Three Fotronix flash heads were used to illuminate the scene when a microphone triggered the Time Machine. The camera used was a Canon 10D. The balloon was filled two teaspoons of water. This picture was taken by Ted Kinsman. You can see more of Ted's work at SciencePhotography.com. A few more of Ted's balloon popping pictures can be seen here.
This picture was also taken by Ted Kinsman. It captures a cup of coffee as it falls. This exposure was triggered by the Time Machine's laser sensor.
---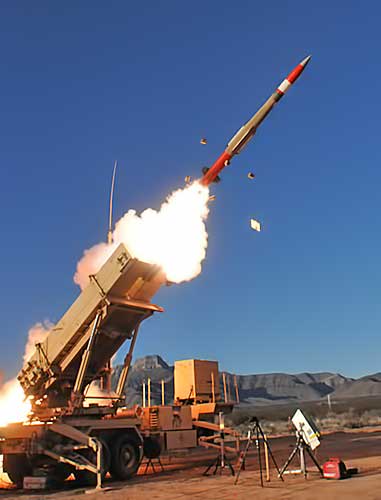 Lockheed Martin uses the Time Machine to document missile launches. This image shows the launch of a PAC-3 Missile on its way to intercept a tactical ballistic missile target at White Sands Missile Range, N.M.
Close examination reveals the Time Machine mounted to the leg of the tripod to the right of the missile launcher.
Photo courtesy Lockheed Martin web site.
---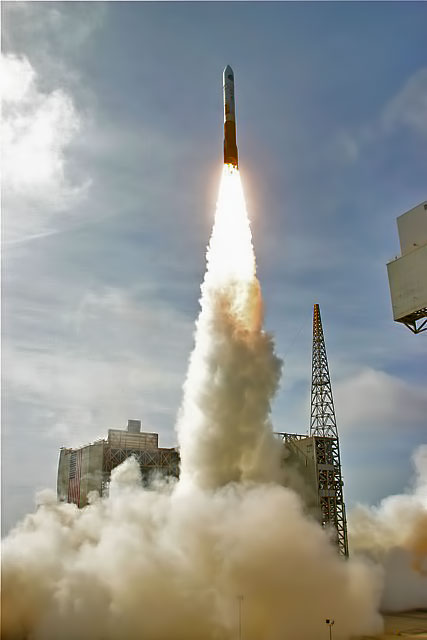 The Time Machine triggered this exposure of a Delta IV rocket launched from Vandenberg Air Force Base in California. Matt Harman used a microphone to trigger his Time Machine, which had been placed close to the launch site the day before.
You can see more of Matt's work here.
---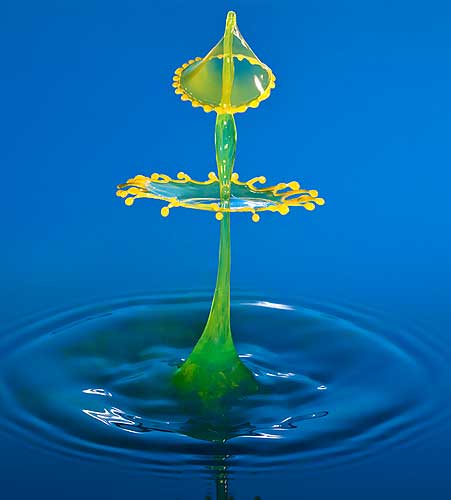 Water drops are a popular subject of high speed photography, and the Time Machine makes it easy to photograph them. We have created a Drip Kit accessory specifically for this type of work. lt allows you to create single or multiple water drops at precisely timed intervals and capture the exact instant of a drop splash or multiple drop collisions.
This remarkable picture of colored milk falling into blue water was taken with the Time Machine and Drip Kit by Corrie White in London, Canada. Corrie is a true artist of drop photography. You can see many more of her images on her Flickr photostream.
---
This picture were taken with the Time Machine by Max Reinhold using a Canon 10D camera. The picture is copyrighted by Max Reinhold and cannot be used for any purpose without his permission. You can se more of his work at:
www.liquid-art-gallery.com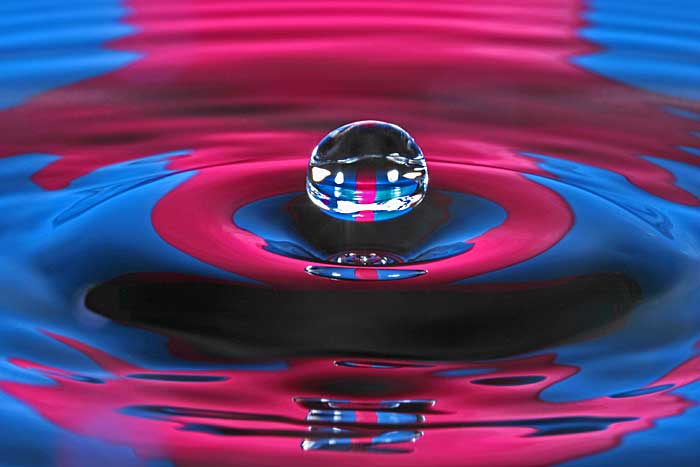 ---
The following milk drop was photographed with the Time Machine by photographer
Norman Schwartz
. You can see more of his work at this web site:
http://www.nsapc.com/milk/
---
The Time Machine can be programmed to add an increment to the delay for multiple exposures and automatically take many pictures. This will capture each subsequent drop a little later in its path. In the end, you have a whole sequence of pictures showing the drop approach the surface, hit, bounce, splash and collapse. You can choose which image looks best, or even combine them all into a "slow motion" movie on the computer. Click here to see such a movie.
---
John Hart, at the University of Colorado, takes stereo pictures of things large and small. He is now using using the Time Machine to take stereo pairs of water drops, like the images below. You probably need a stereo viewer to see this 3D image. Click here to see more of John's pictures.
---
The following pictures were taken with the Time Machine by Gerald Rowles, Ph.D. in Johnston, Iowa. In these pictures, the falling drop of water acts as a lens to focus the flower which is below or behind the drop (the pictures are not PhotoShop manipulations).