Le Slave Driver
Turn antique European slave dials into functioning clocks

---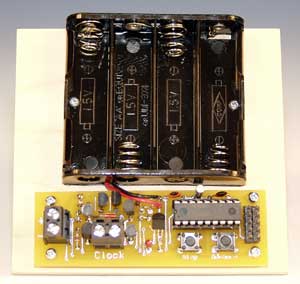 Antique European slave dials are different than American and English slaves. They often use a pulse of alternating polarity to drive them. For example, this is true of the French Brillie slaves. We have created a special version of our original Slave Driver to support these "bipolar" slave clocks. It turns an otherwise idle slave dial into an accurate running clock using the original antique mechanism.
Le SlaveDriver is a small microprocessor with a quartz crystal. It runs on four size AA batteries for many months. A separate battery supply is used to power whatever slave you will be using. For example, a French Brillie usually runs on 1-1/2 volts, and Le Slave Driver works with two "C" cells to provide this power. Le SlaveDriver and all batteries fit inside the case of the original dial when it hangs on a wall. You do not need to run wires to the dial to make it work.
There are two small push buttons on Le Slave Driver with which you can synchronize the clock to exact time. If you push the STOP button, all impulses to the dial will be prevented. You then wait until the clock is exactly one interval slow (30 seconds). Then, you press the ADVANCE button once. This will cause the clock to advance one interval and start the timing. The next impulse will occur exactly one interval (30 seconds) later. The quartz crystal in the Slave Driver is adjusted to be accurate to within two or three seconds per week, though this may drift a little with extreme temperature changes. You can also advance the dial at a rate of two impulses per second by holding down the ADVANCE button. Jumpers are provided which allow you to select impulse intervals of one, thirty, or sixty seconds.
Terminal blocks are provided for connection to the slave dial and batteries for the slave. The circuit is mounted to a wooden panel 3-3/4" by 3-1/2". The panel has adhesive strips which hold it to the inside of your salve dial.
We also make an English/American version of the Slave Driver that outputs unipolar signals for American and English slave clocks. CLICK HERE for more information.
If you have questions, send us an email.
---
Note: We are not currently making Le Slave Driver. You can send us an email and we will notify you if they become available.